I'm joining Armchair BEA for the first time this year by participating in a few discussions. My dream is one day to attend the real deal… but till then, this will suffice. Today's discussion is about books that are "more than just words", and to this end I'm sharing three mini-reviews for books I recently received via NetGalley. (Links click through to longer GoodReads reviews.)
In Real Life by Cory Doctorow & Jen Wang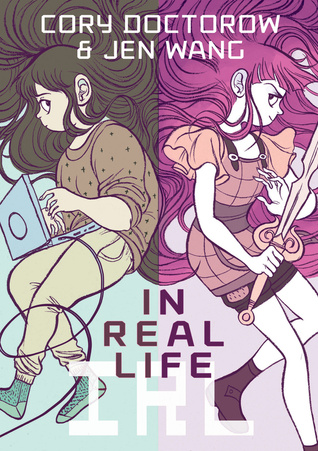 I was a bit worried about reading this because I'm not a gamer and I feared that not understanding the culture would hinder my enjoyment. I need not have worried. In short, Anda is a bit of an awkward, seemingly unhappy teenager in a new town, who gets introduced to the world of Massive Multiplayer Online Games, where she joins an all-female guild and becomes known as a kick-ass player. But she also encounters "gold farmers", a very real occurrence in MMOs. It becomes her mission to "kill" gold farmers, until she befriends one gold farmer from China and realises that most of them are playing long hours just to make a living.
Essentially Anda is introduced to big global issues by means of a fantasy game. And because Anda is sweet and wonderful she tries to do something about her new friend's difficulties.
This graphic novel not only addresses the importance of action and the internet in modern-day activism, but also the danger of the activists overstepping boundaries by assuming that they know what is best for their "causes".
I loved the artwork. I thought the characters were drawn beautifully. I loved the crisp nature and the colour schemes and the characterisation. The relationships between different characters were tangible. I loved the creativity in the MMO scenes. I found the dialogue to be genuine and appealing – facetious dialogue has been a real problem for me in graphic novels before.
 "Every wonderful thing in our world had a fight in its history: our rights, our happiness. All that is sweet is paid for, once upon a time, by principled people who risked everything to change the world for the better."
-In Real Life
The Isobel Journal by Isobel Harrop
This journal creatively illustrates young Isobel, a teenage girl "from where nothing really happens". With endearing drawings, photos and other superimposed media, she shows us her world. Basic things we can all identify with to some extent: family members, pets, falling in love, breaking up.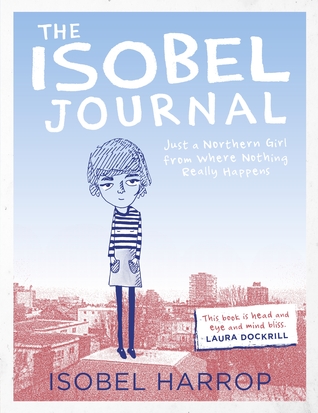 And then there's the otter fascination. Guys, I forgot how cute otters are!
This is a cute, quick read; and it is a pleasure to page through it at a leisurely pace. It is a little random, and perhaps not everybody's cup of tea, but I found it quite refreshing.
I Remember Beirut by Zeina Abirached
I Remember Beirut brings modern wars home. The story of the authors childhood in war-torn Lebanon, Abirached's bold drawings makes this war feel real – and isn't that exactly why books are so wonderful? It takes us places we have never been and fosters our empathy.
This is such a different "war story". The author remembers childlike things, like reading books with her mother and the old Kit Kat wrappers, but then it is superimposed by the kinds of memories not normal to childhoods, like a parent's car riddled with bullet holes.
Little memories: her father's depression. Her brother's shrapnel collection. Going without necessities.
Big events: having to stay at school when it was too dangerous to return home. Their many evacuations. Her own PTSD.
And with every turn of the page the knowledge that something bad (or rather, worse) could be happening.
There are parts of this graphic novel that are so funny and so heart-warming. I loved seeing Abirached growing up. But the ending drives home the fact that war is eternally damaging. I would like to see UNICEF adopt this book, and I would like it to be required reading for anyone running for political office. And I would definitely like to see high school kids read this – it is quick and wonderful and I know that even non-readers will engulf it.
Regarding "More Than Words"? I quite liked comic books when I was younger, and then became a bit of an annoying purist. It was the most wonderful thing for me to get back into enjoying graphic novels. In the same way that multimedia allows me to study more effectively (YouTube videos and online flashcards anyone?), it also makes reading more fun and accessible.
I'm also currently reading S. by J.J. Abrams and Doug Dorst. It's a story-within-a-story, with handwritten notes and postcards and – oh, it's fantastic. I'm savouring it and reading it slowly. It requires a lot of attention and focus, but it is truly unique.
Lastly, I read my first audiobook last year. Sync currently has a summer program where they give free weekly audiobooks. You should check it out!