July is Harry Potter Month with Faith at Student Spyglass (because duh, Harry's birthday is in July!) Although a lot of people are doing this, I wanted to share what Harry Potter meant (and still MEANS) to me.
I was eleven when I read the first Harry Potter book. I think they had been published a while before that, but that was the year they were translated to Afrikaans. At that stage I was still reading mostly in my home language.
It wasn't even my book – I hadn't even heard of Harry Potter, but my best friend had received the first three books for her birthday, and she passed them on to me when she finished them. Oh, and her birthday was at the end of June, which means I started reading HP in July, WHICH MEANS THIS IS MY THIRTEEN YEAR ANNIVERSARY OF READING HARRY POTTER! A special month indeed.
So, anyway. I didn't really think the books were going to be great. I don't know why. But when I started reading I couldn't stop. They were FANTASTIC! I'm a big scaredy-cat so I did sleep with the night light on a few times (Voldemort is scary, guys).
Something in these books enthralled me like no author since Roald Dahl had done. I had thought I was "too grown up" for magic and dragons and adventure (I was weird), but Harry Potter just turned all that around for me, and suddenly I was dreaming of playing quidditch and learning to do cool magic.
That year was a pretty quiet year for me. I was eleven and had no experience with bullies or loneliness. I had my small group of friends and I was happy. It had never occurred to me that who I was might not be "good enough" for some people.
But six months later, everything would change. My best friend emigrated and I had to find new friends. And I did find new friends – with THAT group of girls. You know the ones. The ones who can change your whole social life just because they like you. The ones who always have drama in their social circle. The ones who can ruin you as quickly as they "made" you.
It was a tumultuous year for me. Suddenly there were things like being "too nerdy" or "reading too much". Suddenly teasing and bullying were more than just lectures in Life Skills.
But there was always Harry, Ron and Hermione. I thought of how they were tormented by Draco and his gang. And how they fought back. And how they were the kids I wanted to be like.
I'm not pretending that the HP books were my only saving grace, because I had a lot of other supporting factors; but I can't deny the role these books played in my life. When the opportunity came to make a radical change and go to a completely different school for high school, I grabbed it. It felt like I was going off to Hogwarts. Everything was going to be different. Things were going to be magical. And they were. It was so scary to make that jump, but just like Harry, it changed my life forever. In a great way.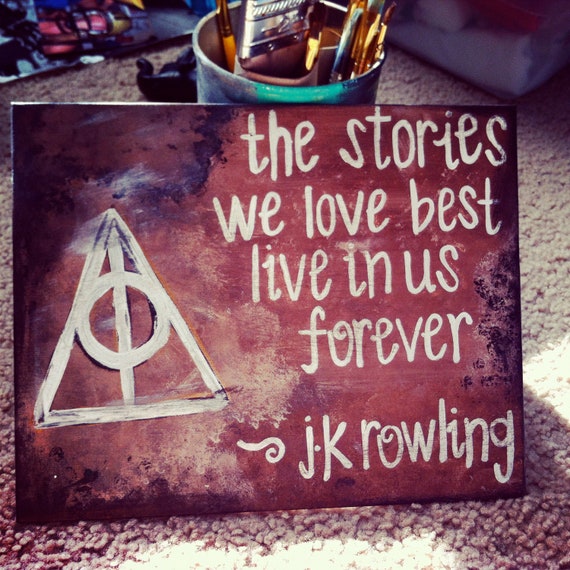 Oh, and then there was Hermione. Apart from Matilda, I had never read a character who was "like me". But I connected with Hermione more (because I have great parents, unlike Matilda). The kid who annoys everyone by always having her hand up in class? The one who sounds a little know-it-all and bossy, and who will argue with the teachers when they are wrong? That was me. (Hah. Wish it still was.)
But Hermione was FIERCE, and I realised that I didn't have to conform to the stereotype of the withdrawn and quiet nerd. I do believe that in Hermione, I found a fierce, brave, and loyal role model to emulate.
There is not a doubt in my mind that the Harry Potter books played a massive role in my childhood. I'm sure my kids will one day grow tired of listening to me gushing about it. But I think that when they are older, they will think fondly of Harry Potter the way I think of Grease, and Neil Diamond, and all the other things my parents love so much.