It's time for another end of year book survey with Jamie from The Perpetual Page Turner! I read more than I thought I would be able to get away with. Here's a bit of a roundup of the year!
Where titles are hyper-linked, the redirect to my reviews.
Number Of Books You Read: 59 (re-reads not included)
Number of Re-Reads: 3
Genre You Read The Most From: Contemporary (both YA and Adult)
1. Best Book You Read In 2014?
My Top Ten of the year is here… It's really hard for me to pick in more detail than that and it already feels like blasphemy to choose only ten!
2. Book You Were Excited About & Thought You Were Going To Love More But Didn't?
Dreams of Gods and Monsters by Laini Taylor – don't get me wrong, it was a good book, but I just expected so much MORE.
 3. Most surprising (in a good way or bad way) book you read in 2014? 
Three Daughters by Consuelo Saah Baehr – I thought it would be a nice book, but it ended up being AMAZING.
4. Book You "Pushed" The Most People To Read (And They Did) In 2014?
Postmortem: The Doctor Who Walked Away by Maria Phalime
5. Best series you started in 2014? Best Sequel of 2014? Best Series Ender of 2014?
Best series started: It's between The Lunar Chronicles by Marissa Meyer and Red Rising Trilogy by Pierce Brown
I don't really have answers to the other two questions though.
6. Favorite new author you discovered in 2014?
Robin Talley of Lies We Tell Ourselves – she is awesome on twitter too!
7. Best book from a genre you don't typically read/was out of your comfort zone?
I Remember Beirut by Zeina Abirached because I don't typically read a lot of graphic novels based on real life.
8. Most action-packed/thrilling/unputdownable book of the year?
Red Rising by Pierce Brown
9. Book You Read In 2014 That You Are Most Likely To Re-Read Next Year?
The Backwash of War by Ellen N. La Motte – this book winded me, and it would be interesting to see how my experience of it changes once I'm working.
10. Favorite cover of a book you read in 2014?
Aristotle and Dante Discover the Secrets of the Universe – this is really hard and you should probably check out my post about covers here.
11. Most memorable character of 2014?
Cinder from The Lunar Chronicles by Marissa Meyer! I dig this girl so much!
12. Most beautifully written book read in 2014?
Tell the Wolves I'm Home by Carol Rifka Brunt – there is just no contest.
13. Most Thought-Provoking/ Life-Changing Book of 2014?
Other Lives by Andre P. Brink – this book has such important topics relating to love, family and race. A lot of people took issue with the stories but I thought they were very well done.
14. Book you can't believe you waited UNTIL 2014 to finally read?
Coconut by Kopano Matlwa – this book has been making waves in South Africa for ages!
15. Favorite Passage/Quote From A Book You Read In 2014?
This is not fair! I'm not choosing one – sorry.
16.Shortest & Longest Book You Read In 2013?
Longest: Three Daughters by Consuela Saah Baehr (720)
Shortest: Random Body Parts by Leslie Bulion (48) – this is a pretty cute book!
17. Book That Shocked You The Most
The Evolution of Mara Dyer by Michelle Hodkin (I didn't really read a lot of shocking books this year but when things started coming together in both these books it was kind of awesome.)
18. OTP OF THE YEAR (you will go down with this ship!)
(OTP = one true pairing if you aren't familiar)
Meh… I don't really do the ship thing in books… but I suppose Liam and Liz from Falling Into Place by Amy Zhang
19. Favorite Non-Romantic Relationship Of The Year
Mia and her family from If I Stay by Gayle Forman
20. Favorite Book You Read in 2014 From An Author You've Read Previously
Broken Monsters by Lauren Beukes! I will forever have her on my non-existent auto-buy list.
21. Best Book You Read In 2014 That You Read Based SOLELY On A Recommendation From Somebody Else/Peer Pressure:
The Curious Incident of the Dog in the Night-Time by Mark Haddon – one of the psychiatry professors "strongly suggested" it.
22. Newest fictional crush from a book you read in 2014?
Cameron from The Miseducation of Cameron Post by Emily Danforth
23. Best 2014 debut you read?
The Country of Ice Cream Star by Sandra Newman
24. Best World-building/Most Vivid Setting You Read This Year?
The Body Electric by Beth Revis – futuristic Malta FTW!
25. Book That Put A Smile On Your Face/Was The Most FUN To Read?
Soppy: A Love Story by Philippa Rice – oh yeah, a book without words totally did that for me 🙂
26. Book That Made You Cry Or Nearly Cry in 2014?
The Last Brother by Nathacha Appanah – oh, my. I did not expect that little book to do that to me…
27. Hidden Gem Of The Year?
In Real Life by Cory Doctorow – I do wish this awesome graphic novel got more attention.
28. Book That Crushed Your Soul?
Wait, how is this different from #26? Okay… My Life After Now by Jessica Verdi because – well, you'll have to read my discussion post to understand the significance.
29. Most Unique Book You Read In 2014?
Probably The Isobel Journal by Isobel Harrop because it is essentially a published smash-book.
30. Book That Made You The Most Mad (doesn't necessarily mean you didn't like it)?
The Giver by Louis Lowry – I had a bit of a rant about it.
1. New favorite book blog you discovered in 2014? 
Well that's not fair. Erm.. Oh The Books, Paper Fury, Bookishly Speaking… can I stop now? I don't like singling out in case I forget someone.
2. Favorite review that you wrote in 2014?
This review for Broken Monsters – I liked the extra media and I just really liked writing the review.
3. Best discussion/non-review post you had on your blog?
I'll stick to bookish discussions since this is a bookish survey:
Harry Potter and the "Occult": How Reading Was Almost Ruined For Me
4. Best event that you participated in (author signings, festivals, virtual events, memes, etc.)?
When I met Maria Phalime! And she signed my copy of Postmortem.
5. Best moment of bookish/blogging life in 2014?
Uhm… just every second that I could read, basically. It was kind of hard what with final year of med school and all that.
7. Most Popular Post This Year On Your Blog (whether it be by comments or views)?
Most popular [bookish] post written pre-2014: This Top Ten Tuesday Freebie from 2012, in which I chose Ten Books for Students, Professionals and Fanatics of the Health Sciences. (Yeah, I'm such a nerd.)
Most popular [bookish] post written in 2014: Ten Book Covers I'd Frame as Pieces of Art
8. Post You Wished Got A Little More Love?
This post about allowing authors to leave a little to the imagination. I still feel the same way. Too much description annoys me, and makes my imagination lazy.
9. Best bookish discovery (book related sites, book stores, etc.)?
My nerd is going to show again but… Atrium, the free illness narratives journal by the Medical Humanities and Bioethics Program of Northwestern University. (Aaaand…. they're not in production any longer, which makes me really sad. I hope they come back!)
10.  Did you complete any reading challenges or goals that you had set for yourself at the beginning of this year?
On the GoodReads challenges I wanted to read at least 30 books, and I read 59. I thought this was decent.
I wanted to read more LGBTQ lit, although I didn't officially join a challenge, and I did read more than usual.
I wanted to read 25 books that I own on my shelf and… I don't think I quite made it. I got a bit caught up with reading eGalleys, whoops.
1. One Book You Didn't Get To In 2014 But Will Be Your Number 1 Priority in 2015?
 A Tale for the Time Being by Ruth Ozeki – GeekBoy actually bought me this (upon request!) for Christmas 2013 and I feel quite guilty for not reading it yet.
2. Book You Are Most Anticipating For 2015 (non-debut)?
The Secrets We Keep by Trisha Leaver – twin books are often quite awesome and this one sounds great. Oh, and the cover is cool!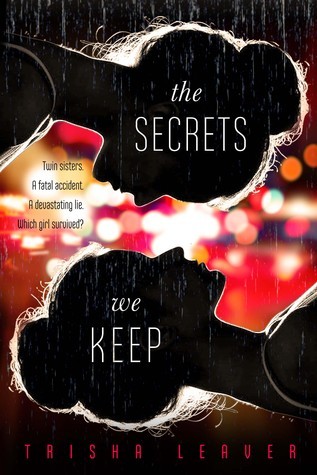 3. 2015 Debut You Are Most Anticipating?
Hold Tight, Don't Let Go by Laura Rose Wagner – another book set in Haiti! (I read this one this year).
4. Series Ending/A Sequel You Are Most Anticipating in 2015?
Winter by Marissa Meyer! (Assuming I get to read Scarlet and Cress first.)
5. One Thing You Hope To Accomplish Or Do In Your Reading/Blogging Life In 2015?
Just read. I have no idea how much time I will have to read during first year internship and I really hope I can read a little. It keeps me sane and happy.
6. A 2015 Release You've Already Read & Recommend To Everyone:
The Walls Around Us by Nova Ren Suma (isn't the cover creepy-good?) – my review for this one is still coming.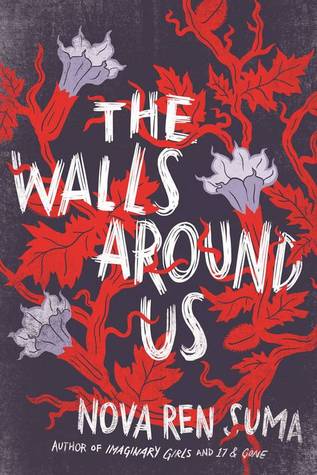 Have you read any of these books? Let me know! I hope you had a great bookish 2014, and that you will read many wonderful books in 2015!