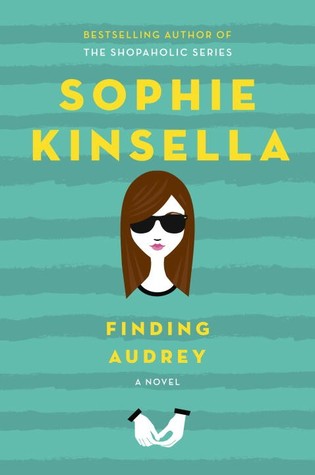 If you're a regular here, you know how much I care about mental health, not just in the medical sense (although I do LOVE psychiatry!) but also in terms of the way it is presented in popular culture. Including books. Books count as popular culture, right?!
I must admit that before Finding Audrey I had never read a book featuring any of the anxiety spectrum disorders (I think…). Weird I guess. But I've had a good number of patients with Generalised Anxiety Disorder and Social Anxiety Disorder (with and without agoraphobia) so at least I'm not entirely unschooled.
Sophie Kinsella is kind of a big deal, and this is her first foray into YA. To be honest, I've heard of her but I've never read her before.  But it could have been anyone who wrote it really, I was still going to request it on NetGalley (thanks, Penguin Random House Children's UK!).
So with "laugh out loud" in the first sentence of the pitch I guess I expected to laugh out loud, but since I rarely laugh out loud at books we shouldn't be too surprised. I found Finding Audrey (see what I did there) to be light and comic but not, you know… laugh out loud funny. It was more like, "Are you kidding me?!"-sitcom kind of funny.
I hadn't really thought of it, but not everybody is comfortable with a comical look at a serious mental health issue. I guess I can understand that (and you really SHOULD read this review because it makes a lot of salient points). But I didn't find it problematic.
There is nothing funny about anxiety disorders. Acute anxiety states are horribly scary. But as with any illness, during the period of recuperation, as much as there are terrible moments, there are hilarious moments. And many people to resort to humour in order to deal with whatever their situation is.
The other benefit of a light-ish book about a serious topic is that dissemination of information is really REALLY important from a public health and stigma-reduction point of view. In my experience, a lot of YA books with mental health themes can be really heavy. You know, the typical "issue" books. Many of them do manage to have a silver lining by the end, but sometimes these books can just be so heavy. Don't get me wrong: I'm kind of a glass-half-empty kind of person, so heavy isn't usually a problem for me. But I've learned that it is possible to address serious matters with a more optimistic point of view, and I enjoyed seeing that in action here.
But it is important to know that there is a bit of joking around in terms of GAD/SAD that some readers might find insensitive. Steer clear if you think that might be you.
I loved that this was not a "lesson book". It was a cute story about a girl and a boy and her slightly dysfunctional family and her struggle with GAD/SAD.
Even so, I was especially impressed by the accuracy of information or situations presented in Finding Audrey. I think her states of anxiety were well-illustrated, and I think even a teenager who has never had any experience with it would be able to understand the terror associated with them.
It is more about Audrey's recovery than her acute states though. I think the struggle with recovering, and having set-backs, and feeling like you don't get anywhere is SO WELL described.
"Right now it feels like a slow-motion pendulum. It's lurching forwards and back, forwards and back, but the clock's not ticking round. I'm not getting anywhere."
I got really annoyed with some of the people in Audrey's life (even Linus!) sometimes. I think that was on purpose though. Like when Linus tells her to "just snap out of it. You know, mind over matter," and when Natalie falls for dumb rumours about Audrey's diagnosis. But it's another description of the bogus things people say to people with any kind of mental illness.
And when Audrey starts going a little too fast with her recovery and does things she really shouldn't, wishing for a straight graph, and taking some overly drastic steps, that's an important event too. Because it is something that happens. Just like people who stop taking their antibiotics before they've finished the course because they feel better.
I think sometimes things may have been a little over the top (like Audrey's mum and the computer – I mean, geez!) but mostly it was quite a well-executed read that I'd love to see young teens read. And those adults who like YA, obviously. 🙂