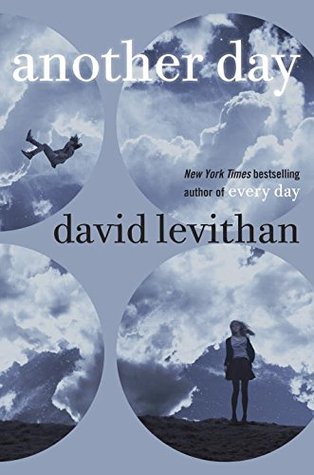 Two years ago almost to the day, I read David Levithan's Every Day, with a protagonist who wakes up in a different body every day. I loved it so much that I read large sections to my non-reader boyfriend. Every Day became a frame of reference for me and changed the way I looked at the world around me.
If you have read it, you'll know that it ends on a MASSIVE cliffhanger. We all want to know what happens to A after he does… the thing! (No spoilers allowed.)
But you should know right off the bat that Another Day won't tell you what happens to A after Every Day. In fact, Levithan is pretty insistent that Another Day is NOT a sequel, but instead a "companion novel." The same events occur in this book than in the first; except from Rihannon's point of view. I can totally see this novel being combined with the first, back to back, and readers will have to decide which to read first (because you can absolutely read them in whichever order).
But did it work?
To be frank, the disappointment of not being allowed to find out what happens after the end of Every Day kind of stuck with me throughout the novel. I LOVED Every Day, but that doesn't mean that I intended to relive it from Rihannon's point of view. I feel like Levithan was probably being super-purposeful in doing this, though – to further his statement on literally looking through another's eyes.
Levithan is a master of showing the truth of a relationship. I felt so uncomfortable about Rihannon and Justin's relationship, mostly because it's dysfunctionality was so perfectly illustrated and I recognised it from my own teenage relationships.
"I love him and I hate him because I know that I'm his."
I also saw a more needy, teenager-y side of A, which was definitely more realistic than the almost supernaturally mature A in Every Day.
I didn't find the writing to be as gorgeous in Another Day. It was above average, certainly, but it paled in comparison to Every Day (and yes, #sorrynotsorry, but I absolutely am comparing the two). I think Levithan provides a relatable protagonist in Rihannon, and I would recommend reading this – but not more than Every Day.
"Most of the time when we think we're looking for death, we're really looking for love."
Something that REALLY bothered me was the huge emphasis on pop culture in this book. I don't remember everything about Every Day, but I don't think it had as many references to pop culture at the time. It referenced Judy Blume's Forever, but that's practically a classic. I felt like mentioning so many recent books and songs took away from the timelessness of the story (there's a whole blog post hiding in there).
Dear David Levithan: Every Day was incredible. Another Day was a three-star read for me – so not bad but not great. I know you're probably never going to write a true sequel… but I do wish you would!
Disclaimer: eARC provided via NetGalley in exchange for an honest review.