Hurrah for a Top Ten Tuesday – and one where I'm not working, to boot. I had no idea what to expect of my reading this year. On the one hand: no more formal studying! On the other hand: real-life doctoring with long calls and boring admin. But it has gone well – in fact, as of 18 June I was done with my 2015 reading goals (namely to read 30 books). Not, you know, like that is going to STOP me or anything.
I've read some great books these six months! And… some awful ones too. But we won't dwell on those. Here are the top 10 I've read so far.
10. The Triumph of Seeds by Thor Hanson (non-fiction, science)
If you doubted my nerdiness then this book should confirm it. But seriously: my least favourite part of high school Biology was Botany, and I do think that I would have felt different had I read this book. It's AWESOME. Not an awkward dinner party goes by where I don't bring up something I've read in this book.
9. My Best Everything by Sarah Tomp (YA, contemporary)
Moonshine and a Southern romance. I enjoyed this a bit more than I anticipated.
8. Finding Audrey by Sophie Kinsella (YA, mental health, contemporary)
So like me to include a book about mental health; very unlike me to enjoy a book that is fairly light and chick-litty.
7. Death of a Saint by Lily Herne (YA, horror)
The sequel to Deadlands (Zombies! Cape Town!) and a South African roadtrip. I liked this one MORE than the first book and so wish more people would read the series. Currently waiting for the third book to arrive in the mail, whoop!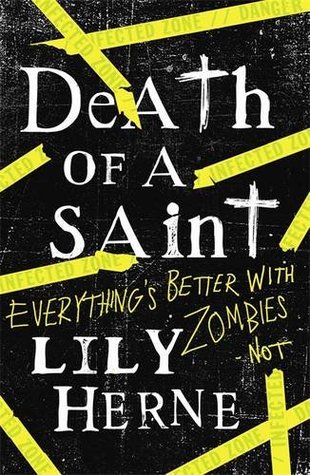 6. White Cat by Holly Black (YA, fantasy)
WELL KNOCK MY SOCKS OFF. Most underrated series EVER, and you should read Cait's review because I didn't write one.
5. The Milk of Birds by Sylvia Whitman (YA, contemporary, African)
Sudan, war, pen-pals, girls. I was annoyed by a few things but it made me cry and since I'm a total masochist it wins all the stars.
4. Undertow by Michael Buckley (sci-fi, YA)
It's a series and I fully intend on reading the sequels. It's that good. I'm just waiting for the fandom to sprout like a mushroom circle. Any day now!
3. Suicide Med by Freida McFadden (mystery, thriller, med school)
Ah. This one. Just. Lovely. Thrilling. Funny. So good.
2. Finders Weepers by Penny Lorimer (contemporary, crime thriller, South African)
I was so impressed with this book! It's set in my HOME PROVINCE and it is so gorgeous and somehow still a great crime thriller. Everybody should read it. South Africans, but everyone else too. Review pending.
1. A Man of Good Hope by Jonny Steinberg (journalism, African, non-fiction)
Well now. THIS book is probably one of my top ten books of ALL TIME. (I don't have such a list but if I did it would be on it.) It's short-listed for the 2015 Alan Paton award so I'm not alone in this either. Since about 59.5 million people worldwide are currently forcibly displaced and 19.5 million are formally classified as refugees, it's more than relevant; but the beauty of it is that this book reads beautifully – as I have come to expect of Steinberg's work.